Dedicated Servers in Asia
&
Europe Dedicated Servers
A dedicated server is an entire server that you rent yourself, whereby you also take care of management, configuration and maintenance. Dedicated servers are designed for hosting mission critical websites and applications where the highest demands are made.

When you buy dedicated server it comes with our secure environment, high-performance connectivity and HP / DELL server hardware. Each Server will be placed in an advanced, top-tier and ISO certified data centers in The Netherlands and Germany for performance, reliability and security.

Our state-of-the-art data centers maintain redundant network which connects to the world's most important Internet exchanges with 6 Top Tier-1 Carriers, bandwidth capacity over 5.5 Tbps and 10GE & 100GE Uplinks to maintain a core network uptime of 99.999% ensuring unrivaled performance.
This will gives you guarantee that your visitors get a maximum speed and avoid any network downtime.

When comes to support, you can rely on our onsite techs If there is any an unexpected hardware or network problem with your server. They are available 24 hours a day, 7 days a week.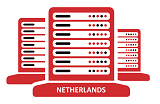 Our Infrastructure is hosted in the state of the art Evoswitch and Equinix Data Center, located in Amsterdam, The Netherlands
Test IP: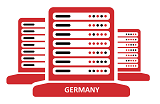 Our germany Infrastructure is hosted in the state of the art Telecity, Interxion and Equinix Data Center, located in Frankfurt, The Germany
Test IP: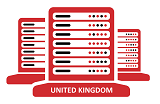 Our uk Infrastructure is hosted in the state of the art LON12 Data Center, located in London, United Kingdom
Test IP: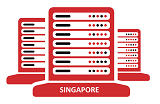 Our Singapore and Hong Kong Infrastructure is hosted in the state of the art SIN-11 and HK-10 Data Center, located in Asia
Test IP:
Why should I choose a praptihost.com server hosting?
Praptihost has been a reliable server hosting partner for more than 7 years. With us you benefit from years of experience and technical know-how. Take advantage of the latest technical innovations. Rely on the knowledge of our experts, so that you can focus on your core business.

7 years of experience and more than 2,000 servers
More than 2000 dedicated servers hosted for over 100s businesses worldwide. 7 years of experience in hosting servers and infrastructure for companies of all shapes and sizes.

Server hardware
You have excellent brand hardware from internationally leading manufacturers such as Intel and HP. We only opt for high-quality, reliable server hardware even with long-term and intensive use.

The best operating systems
Install the best operating systems to manage your server professionally. You can choose from the most used Linux distributions and Windows or install your own. Manage your servers the way you want.

You're the boss! Full root access
With a dedicated server you not only have your own hardware, you get full root access to your server from us. Personalize your server according to your own insight.

Docker ready
With our most current operating systems you are 'Docker ready'. With Docker you can isolate software in containers. This makes it easier to develop applications, because all the required packages are present in the Docker containers. This way you can execute code quickly and reliably, independently of the software environment.

Support 24/7/365
Need help with suspected hardware problems or network issue? then our support staff are ready for you 24/7/365. You can reach us by email.
Bare Metal Servers
Raw Power of Dedicated Hosting
Physical Server With Full Root Access
On Demand IPMI/KVM Access
Choice of 1GE/2GE/10GE Uplink
24/7/365 Dedicated Support
Infrastructure
Charge Your Global Presence
+
99.99% Core Network Uptime
+
5.5+ Tbps Bandwidth capacity
+
Top Tier-1 Carriers
+
Private Networking
+
ISO Certified Data Centers
+
Strategic Locations Across the Globe
Company
Learn More About Us
+
Founded in 2012
+
Trusted by 100s of business in hosting, gaming, ecommerce, and big data.
Looking for Custom Server?
Buy Custom Dedicated Server
Do you need customized solutions or a private VMware cloud? Or do you need several servers with special components in their own VLAN with VPN access, SAN storage and redundantly designed A / B power supply?
Then just contact us - we will make the perfect server package for you.